One of the most fascinating countries
in the world, we recommend you take
the time to enjoy Ethiopia properly.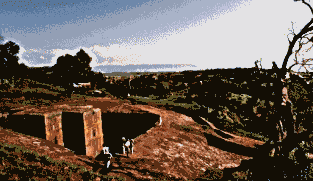 St. George church, Lalibela
Hotels range from luxurious, like the
Addis Ababa Hilton and Sheraton, to fine
first class and tourist class hotels in major tourist
areas, to simple rustic inns in remote areas,
most with private baths.
Food is generally Continental style,
though everyone should sample the
unique spicy Ethiopian national cuisine
typified by injera and wot: a tasty stew
eaten with the fingers,
which goes well with tej, a honey wine.
When traveling outside Addis Ababa you
will be most comfortable in casual clothes,
jeans and sturdy but comfy walking shoes.
So pack light, you won't need much more.

In Addis Ababa and other cities you may
wish to have a nice suit or dress on hand,
as Ethiopians, while quite informal,
like to dress up to go out.
If you have questions just let us know. We'll
be pleased to advise you by email, fax or phone.
---
About Travel Ethiopia
Samrawit Moges and Thomas Mattanovich,
Travel Ethiopia's management team,
have over 50 years experience between them in
Ethiopia tourism and wildlife conservation.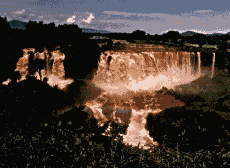 Blue Nile Falls, Bahir Dar
The standard tours outlined in these pages are
our most popular. They can be custom tailored
by our experts to meet your needs, time frame
or special interests.
Rates are competitive. Email or fax for details.

Equipment is of the highest standard.

Travel Ethiopia's concern for and attention
to each client is personal and unmatched.
---
Contact us:
E-mail
Telephone 251-11- 5 523-165 or 5 510-168

251-11- 5 525-479 or 5 525-478

251-11- 5 508-870

FAX 251-11-1 551-276

Postal address

Travel Ethiopia
PO Box 9438
Addis Ababa
Ethiopia