Country topographic profile
With an area of 1, 112, 000 square kilometers, Ethiopia is as large as France and Spain combined.

From the north and running down the center are the Abyssinian highlands, to the west of the chain the land drops to the grasslands of Sudan, to the east the deserts of the Afar and the Red Sea. South of Addis Ababa, the land is dominated by the Rift Valley Lakes.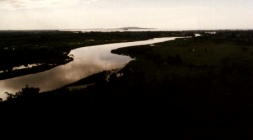 The main rivers are the Blue Nile, the Tekezze (which joins the Nile in Sudan) the Awash, the Wabe Shebelle, the Omo, and Baro and Birbir.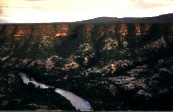 Population
The current population is about 55 million, making it the third most populated country in Africa.
Government
The former military regime was overthrown in 1991.

Ethiopia is now a Federal Republic made up of 14 regions, mainly based on ethnicity. (In southern Ethiopia, 5 regions have combined to form the Southern Region.)

The present government was elected in 1995 for a 5-year term.
Economy
85% of the population get their livelihood from the land. Coffee (the word originates from the name of the province Kaffa, in the south west of Ethiopia) provides of Kaffa, in the south west of E5thiopia) provides 65% of foreign currency earnings.

The opening up of the economy since the overthrow of the previous government in 1991 has created more favorable grounds for development of Ethiopia's resources.

Ethiopia is the "water tower" of the region (the Blue Nile contributes to 85% of the main Nile flow) and plans are now in progress to better exploit the country's water resources both to boost agricultural production and for power generation.

Mineral exploration and mining has stepped up in recent years-there are reserves of natural gas, coal, Gold, copper, tantalum, potash, zinc, iron ore, marble, precious and semi-precious stones.

The export of livestock, skins and hides (Ethiopia has the largest domestic livestock population in Africa) oilseeds, pulses and animal feed makes up the rest of Ethiopia's foreign currency earnings, with tourism set to make an increasingly important contribution.
When to come
This can depend on where you are going. In most of the country, the main rainy season runs from June to the end of September, with short rains in March.

In the Omo and Mago parks however, in Southern Ethiopia, the seasons are different with the main rains from March to June, and shorter rains in November.

With the upgrading of the airports along the historic route (Axum, Lalibela, Gondar and Bahir Dar), it is now possible to visit the north even in the rainy Sean.

For travelers who do not mind waiting out a downpour (usually followed by brilliant sunshine) there are certain rewards-a green countryside full of crops and flowers and the sites largely to yourselves.
Climate and Clothing
Because of elevation, temperature rarely exceed 25c in most of the country, although in some of the lower lying areas (Awash, Omo and Mago parks) it can get considerably hotter.

Pack light clothes for the daytime and jacket or sweater for the evenings, and a good pair of walking shoes even if you are not going trekking-path ways around historic sites is usually uneven and stony.

Trekkers in the Simian and Bale Mountains will need warm clothes, waterproofs and 3-4 season's sleeping bags.

A cultural note: Ethiopians are generally modest dressers and visitors should be sensitive about going underdressed into places of worship. Shoes must always be removed before entering churches and mosques-for getting around sites like Lalibela with its many churches airline socks are very useful.
Health and Medical
All visitors should be in possession of valid yellow fever vaccination certificate. Immunization for Hepatitis A and B, Typhoid and Polio is recommended.

Malaria: in many sites malaria is not a problem because of the elevation - this is true of Axum, Gondar and Lalibela for example, but it can occur in Bahir Dar at the end of the rainy season and after unseasonable rains. Chloroquine resistant strains have been identified in some areas so you should consult your doctor about the prescription. Alternatively, you can keep mosquitoes and other insects at bay with repellent creams and sprays. (Climatic changes and phenomena such as el-Nino has meant the appearance of Malaria at unseasonable times, and its spread to areas previously malaria free)

Visitors should take a simple first aid pack, which would include: different size plasters, antiseptic cream, anti-histamine cream and/or tablets for insect bites, sun barrier cream (while temperatures are moderate the sun is strong) and anti diarrhea tablets such as Imodium for emergencies (they will not cure the problem but will control the symptoms). Generally, visitors should take out standard holiday health insurance in their home countries.
Food
The Ethiopian national dish consists of injera, a flat, circular pancake made of fermented dough on top of which are served different kinds of cooked meats, vegetables and pulses.

The sauces are generally spiced with berbere, a blend of herbs and spices (including hot peppers) which gives Ethiopian food its characteristic taste.

Vegetarians should try "fasting food" (for devout Ethiopian Orthodox Christians fast days make up nearly half the year), a colorful spread of Salads, vegetables and pulses, devoid of all meat and animal products.

One eats national dishes with right hand (water for washing is usually brought to the table before the food is served), tearing off pieces of injera to pick up the "toppings".

Addis Ababa now boasts of a wide variety of restaurants, and at hotels in tourist sites European style food such as pasta is always available.
Accommodation
Addis Ababa has two 5 star hotels: the Hilton and the Sheraton-and a growing number of tourist class hotels.

Standards vary outside the capital (the hotels in the north are generally better than those in the south), but apart from the Omo and Mago areas where camping is unavoidable it is generally possible to get relatively clean rooms with en suite toilet and shower.
Travel by air, road and rail
Ethiopian Airlines operates an extensive (43 airports and an additional 21 landing strips) and generally efficient and reliable domestic air service, but cancellations and delays do occur.

Traveling by road allows visitors to experience Ethiopia's wonderful scenery, but road conditions are generally poor, and mountainous topography in the north will cut speed.

The hour flight to Lalibela for example takes nearly two days by road.

Railway enthusiasts who wish to travel by train from Addis Ababa to Dire Dawa or on to Djibouti should be prepared for delays and run down carriages.

Ethiopia has recently secured substantial grants for the renovation of its road and rail network, but improvement will take time.
Money Matters
Visitors should declare all currency in their possession on arrival and only change at banks and authorized foreign exchange dealers.

The Ethiopian currency is the birr, the rate of which against the US dollar is fixed in weekly auctions. (In 1997 the rate fluctuated from 6.45 to 6.9 birr to US$1.00).

In order to change birr back to dollars on leaving the country, visitors will be asked to produce bank receipts.
Miscellaneous
Visas:
Visas should be obtained in the visitor's country of residence.
Airport tax:
There is a US$20 departure tax for international flights
Electricity: 220 volts
Souvenirs:
Many antiques cannot be exported and may be confiscated if found in airport searches. The National Museum in Addis Ababa can issue a clearance certificate.
Photography:
Generally only 100 ASA is available, slide film usually not.

As a matter of courtesy, permission should be sought before photographing individuals and in many parts of the country, particularly among the Afar and among the ethnic groups living by the Omo River, people will demand a fee.

In some sites (Blue Nile falls for example) there is a charge for video photography.
Beggars and begging: Ethiopia's recent history of civil wars, famines and population displacement, along with poverty and under development generally, has created large numbers of destitute, particularly noticeable in Addis Ababa. Giving to one often provokes a flood of others and does not really solve the problem. Travel Ethiopia is happy to facilitate donations to organizations working with the needy and to facilities like clinics and schools.
Email:



LINKS to Ethiopia history: